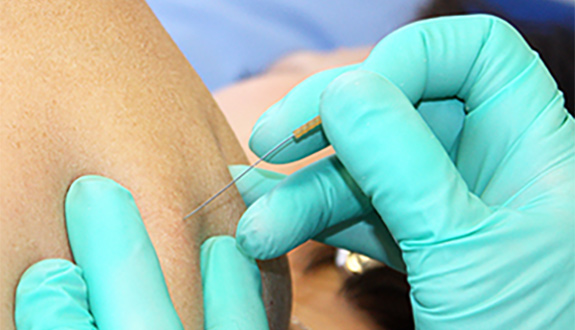 What is Trigger Point Dry Needling?
Trigger Point Dry Needling (TDN) is a treatment technique that utilizes thin, solid filament needles to deactivate and desensitize trigger points in muscles. Myofascial trigger points are knots in muscles that can contribute to pain, decreased flexibility and decreased muscle function. TDN is an effective and efficient method of releasing trigger points, especially when other manual soft tissue techniques are unable to directly release or release as many trigger points. TDN is also known as Intramuscular Manual Therapy (IMT).
Is TDN similar to Acupuncture?
The only similarity to acupuncture is the use of an acupuncture needle. Traditional Acupuncture aims to promote health and restore "energetic balance" by stimulating certain acupuncture points found along certain meridians throughout the body. It is one aspect off a Traditional Chinese Medicine approach which includes diagnosis and clinical reasoning using various Chinese medicine assessment methods. Western or Medical Acupuncture also aims to stimulate acupuncture points along meridians, but applies it to western medical reasoning utilizing anatomy and neurophysiology as its basis and not traditional Chinese medicine. TDN is based on anatomy and neurophysiology and its aim is to needle altered or dysfunctional tissues in order to improve or restore function, in most cases specifically myofascial trigger points.