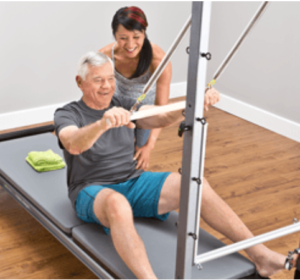 Pilates
Pilates based exercise emphasizes the mind-body connection by focusing on the movement control of the whole body, beginning from the "powerhouse" core muscles and working outward. This exercise and postural education concentrates on regaining desired functional movement patterns, restore postural alignment and improve balance strategies which carries over to daily activities and recreational sport.
Comprehensive Physical Therapy provides one-on- one Pilates sessions as well as Mat classes with props (large and small exercise balls, air stability discs, foam rollers and resistive bands). Please call and ask to speak with our certified instructor, Dr. Kim Bozich PT, DPT, CSCS, CPT-PMA to see if this type of Pilates exercise is appropriate for you.
Sign Up Genius Instructions Computer
Sign Up Genius Instructions Mobile
"I am not an exercise fanatic but I do enjoy attending my Pilates class. This class has taught me how to move my body correctly. In doing so, I have better balance, range of motion, and increased flexibility. Kim makes the class fun and educational.

KL
We also have Private Pilates Lessons Available taught by our resident Massage Therapist, also certified Pilates Instructor, Jane Hopkins.
30min Session $50
45min Session $75
1hr Session $90
We also offer Buy 10 get 1 free packages; 30 min for $500, 45min for $750.
Please contact us for more info on getting started with private pilates sessions.